Posted by Hillcrest Camera Club on Monday, September 19, 2011
Under: Meetings
Hi All

It is time for our Photo Sharing evening and we can't wait to see what everyone has been up to. So, get your photos ready and submit them!!


1. Photo Sharing

These are the categories to submit photos for:
1. Open
2. August Outing (Tala Game Reserve)
3. Set Subject (Self Portrait)
Please submit your photos by email to: hillcrestcameraclub@gmail.com, or bring 8x10 prints.
Email submission closes 8pm on Monday, 19 September, 2011.
You can submit photos for either/or the Set Subject, Outing and Open categories. Please only submit 3 photos in total.
Size - Maximum of 1024 x 768 pixels, and not more than 600KB per photo. Please do not exceed this limit!!!!
Format - Jpeg or Tiff
Labelling - the file name of each photo must follow this format: Category - Your Name & Surname - Title of Photo
e.g. Set Subject - Rankin - Leonora Carrington.
Please make the subject line of the email "September photo submissions for 2nd meeting". This will make it easier for Andre to identify the emails and ensure that your photos will be added.
Please note: If your photo is incorrectly labelled, or named, and there is no subject line for the email, or it is sent after the deadline it will not be shown.

If you miss the deadline for emailing, you can submit photos at the meeting. However, please be considerate and come early. Out of consideration to those who have submitted timeously, we will no longer be accepting submissions after 7PM, once the meeting begins.


2. Set Subject: Self Portrait

We hope that you have all been challenged by this month's set subject, and have tried your hand at a self portrait. A self portrait is a photo of yourself, taken by yourself. This means that you have to set up the shot, set up your camera and then take a photo of yourself.

Some Tips:
- Keeping it simple can create a very strong image.
- If you want to do something elaborate, plan it in detail before shooting.
- Take your time. Rushing the process and getting stressed, will show in your expression and body language.
- Use the techniques you have learned at the club, i.e. backlighting, window light, etc.
- Put your camera on a tripod or stable surface and pre-focus using a chair, lamp, etc.
- Use a remote shutter release button to take the photo, or use the 10 second delay on your camera.
- Use a mirror to check your pose and expression.
- Remember, a self portrait can be of any part your body and does not have to include your face.

If you need to find inspiration, try looking at other photographers on Flickr.com.


3. Outing: Mariannhill Monastery

Our outing for September will be to Mariannhill Monastery. There is much to photograph, from the old church, to the surrounding buildings. Father Henry has kindly allowed us to photograph within the cloister, which is where the beautiful arched passageways can be found which are lovely subjects to shoot.

Date: Saturday, 24 September 2011
Time: 09:00am

Directions: From the N3 take the Richmond Road turnoff (Exit 23) away from Pinetown.
Go past Stockwell Road, which is where the Motor Licensing offices are.
Follow the Mariannhill Monastery sign at the traffic lights and turn right into Abbot Francis Road.
Follow the road to the right, and go through the main entrance. Park on your immediate left, at the reception area. We will meet there.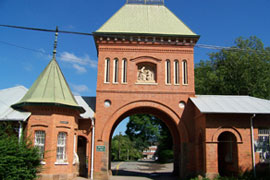 History
The Marianhill Monastery was established in 1885, after a long search for suitable land, by Father Francis Pfanner, an Austrian monk. The first Catholic missionaries to arrive in Durban found that there were already groups of traders with strong protestant ties established in the area. After struggling to find suitable land in the growing town, they stationed themselves in the hills surrounding Durban, from where they Later went on to establish many missions in the province.
Soon the community totalled 285 monks, and held the status of the largest Trappist settlement in the world. The Marianhill monastery was built in the Romanesque Revival style. The complex, in the "valley of the monks" is located near Pinetown, and now includes the monastery, church, campanile, workshops and museum, a repository, sisters' convent with vestment department, the Jabulani Self Help Centre, St Francis College and St Joseph's Cathedral. The Monastery Retreat House, which looks across the valley of the Umhlatuzana River to the hills beyond, is open to both religious and lay people seeking spiritual guidance, enrichment and renewal.



4. Exhibition of Craig Bowker

We are very happy to announce that one of our members is having an exhibition and we encourage everyone to go and support him.

Here is a short message from Craig about his exhibition:
"My name is Craig Bowker. I am a second year Photography student studying at Damelin College. As part of my final year I am required to have an exhibition of my work, which consists of a range of images from food, to wildlife and landscapes."

The opening night will be on Tuesday, September 27th, starting at 6 for 6:30pm, and the prints will be for sale.
It will be held at St. Clements Garden Cafe & Restaurant, 191 Musgrave Road, Durban.

See everyone there!!


5. 4TH Annual Worldwide Photo Walk



Scott Kelby announced that his 4th Annual Worldwide Photo Walk, would be held on October 1 and 2 this year. Please join this amazing event. It is free to participate in the walk, and there will be some really great prizes for one grand prize winner and 10 finalists. Plus, Scott Kelby will be awarding one of his latest books - Light It, Shoot It, Retouch It - to each leader and winner from each walk location.
To stay on top of Photo Walk happenings, you can visit the website or go to the official Scott Kelby Worldwide PhotoWalk page on Facebook.
So far there are no Walks arranged for the Durban area, so if you wish to organise one, please go to the website for details on how to run a Photowalk. The Photowalks are always fun - lets support this year's efforts!


---
See you at 7PM, Tuesday 20 September

!
In : Meetings